Adrien Gagnon Natural Vitamin E 400 I.U. 60 Softgels
$167.00 & Free Shipping
Protects cell membranes and reduces free radical damage

Delay aging, reduces wrinkles and diminishes spots

Antioxidant vitamin for the maintenance of good health

Maintain vascular health and blood circulation, promote heart health
Quick Response Customer Service
Replies within next working day on any issues you may have with your order.
Traceable Delivery
All orders are insured and shipped via a courier with tracking number to ensure that your orders are protected.
Secure Checkout
SSL Enabled Secure Checkout
Out of stock
Description
Introducing
Adrien Gagnon Natural Vitamin E 400 I.U., 60 Softgels
Protects cell membranes and reduces free radical damage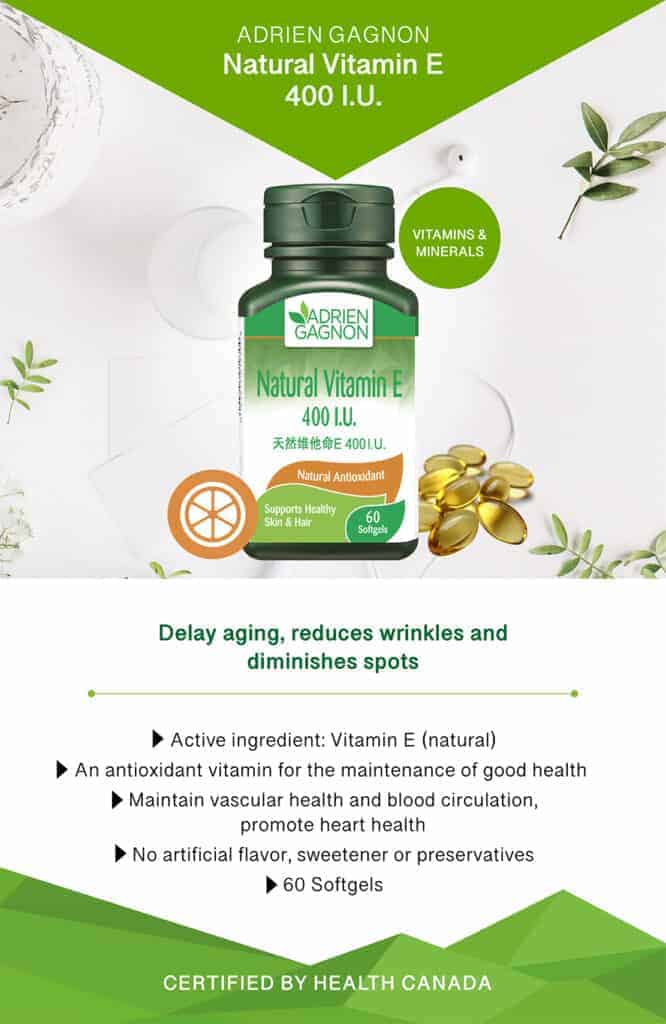 Small size of soft gel. Easy to swallow
Content:
60 Softgels
Ingredients:
Vitamin E (natural): 400 I.U
Place of Origin:
Canada
Dosage:
Adults and children 4 years and older: 1 soft gel daily.
Precautions & adverse effects:
Consult a health care practitioner prior to use if you are pregnant or breastfeeding. Individuals with allergies to any of the ingredients should not use this product.
Purchase now!